CHSE Biology Health And Disease Chapter Notes
UNIT-3: Biology and Human Welfare
Chapter-1:- Health & Disease
Health:-
Health is not only absence of disease.
WHO has defined health a state of complete physical, mental and social well being.
Disease
Disease can be defined as, "a Condition of the body or its parts in which the functions are disturbed or deranged."
OR
When one or more organs are not functioning properly.
Pathogens
Pathogen is an organism which is capable of producing a disease
OR
A pathogen is an infectious agent that causes a disease or illness to its host.
Typically, that term pathogen is used to describe, infectious agents such as viruses, bacteria, fungi, prion and parasite of various forms.
Major classes of pathogens are described below:-
Vruses- Adenovirus, picorna virus, retro virus, papovavirus, polyoma virus etc.
Bacteria- Mycobacterium, Streptococcus, Shigella and Salmonella.
Fungi- Saprophytic Pathogenic Fungi
Prions- Protein pathogens that don't content nucleic acids.
Parasites- Protozoon parasites and helminth parasites.
Pathogenicity is the disease causing property of pathogens. This property is also known as virulence.
Parasite
An organism that lives on or in organism of another species, known as the host, from the body of which it obtains nutrients.
Examples hair and body lice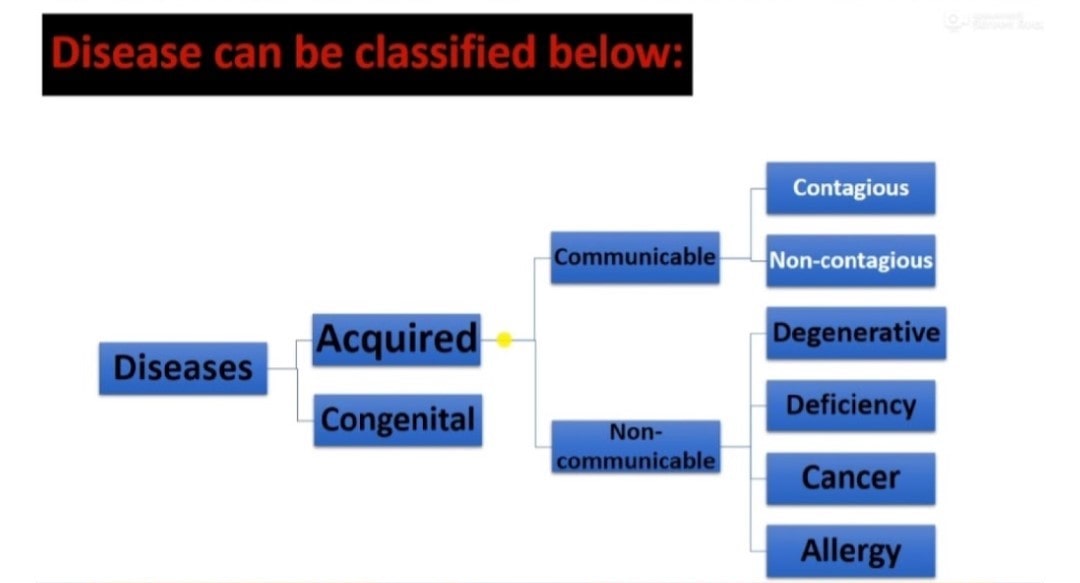 Disease
Disease can be classified into two types
Acquired
Congenital
1) Acquired Diseases:-
Acquired diseases occur only after birth.
These may be either
Communicable Or
Non-Communicable Disease
a) Communicable Disease:-
These are infectious and spread from infected person to healthy person through pathogens.
Communicable diseases may be contagious or non-contagious.
Contagious Disease:- Contagious diseases are transmitted through contact example chicken pox, measles, syphilis and leprosy.
Non-contagious Disease:-
Non-contagious diseases are transmitted through agencies like water, air, food and vector organisms.
=> Communicable diseases can be categorized into several types:-
Viral diseases
Bacterial diseases
Fungal diseases
Protozoan diseases
Helminths diseases
b) Non-communicable Diseases
It does not spread from person to person.
These are four types:-
Degenerative disease:- These occur due to degenerative changes in some vital organs. example- Brain disease, arthritis.
Deficiency diseases:- These are caused due to deficiencies in food or nutrients. example- kwashiorkor(Protein deficiency), goitre(Iodine deficiency).
Cancer:-
These are caused by several physical and chemical agents collectively known as cancer causing agents or carcinogens.
it occurs due to uncontrolled growth of tissue.
Allergy:- These are caused by several allergens (Foreign substances) Example- asthma, hay fever.
2) Congenital Diseases
These are inherited genetic disorders.
These diseases are present since birth.
Example:- Colour blindness, Down's syndrome and Hemophilia.